T

S

G

!

Games

TSG! has many games created by members of the toony community! They're all here for free for all to enjoy! Please support our creators by checking their profiles and letting them know how you like the game!
Cassiopeia Station
Klogmonger
Imagine for a moment floating amongst the stars, travelling in an expansive space-station with several modules to explore, all backdropped by the moon itself, just withing your reach. Only one problem: you're a stowaway who's found themselves all alone, months before anyone else is scheduled to arrive. How would you behave? Mischievously? Anxiously? Well, it seems that regardless of your caution, you may be doomed to a fate of being squished, stretched, or anything in between and beyond. In a similar style to this year's Halloween event, this is an interactive "Choose your own Adventure"-type story with various toony endings to discover.
Cassiopée's Spooky Module!
TSG! Game
Welcome to TSG!'s Spooky Halloween CYOA! This CYOA has many endings which result in "Bad Ends" exclusively, you can always back track and try a different path! Each main ending will have the command to receive a Pin of the specific ending for your Toony licence within TSG!'s Discord Server! Start below, and feel free to join our Discord server! HAPPY HALLOWEEN!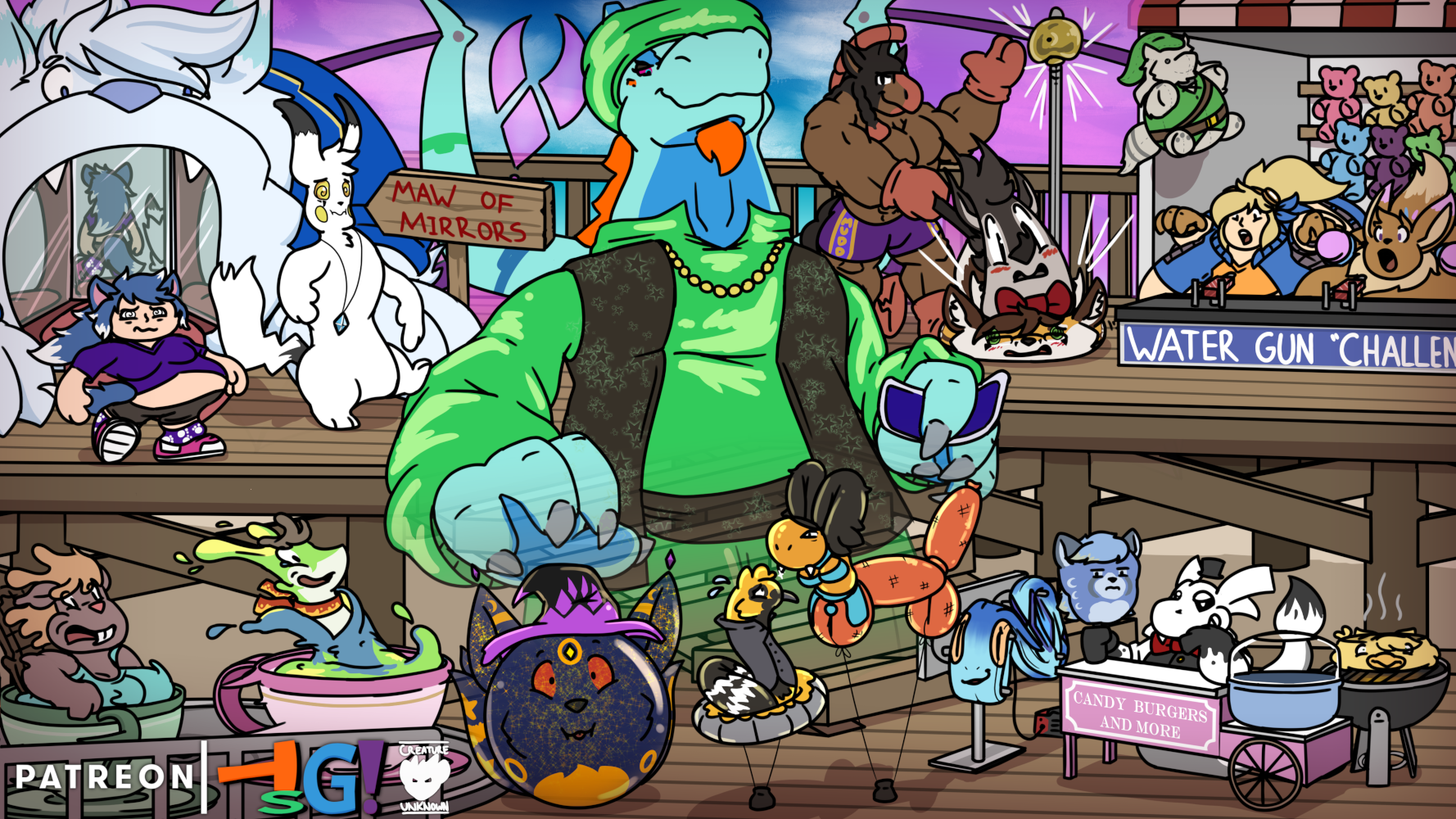 Summer Carnival 2020
TSG! Dev Team
Ah... the boardwalk. The perfect location for a fun day on the water. The air is crisp, the sands are softer than clouds... and the sun shines like a spotlight into the crashing wake of the ocean. But that's far from all; because today marks the Summer Festival! Attractions expand as far as the eye can see... and you just can't wait to jump into it all! As you approach the entrance to the venue... you see a strange looking machine off to the side. It's... unlike anything you've seen. It houses a mechanical looking dragon inside, sporting the garb of some kind of fortune teller. The window of the machine reads in curvy letters "Cassi speaks". You can't help but feel yourself drawn to it... like a moth to a flame.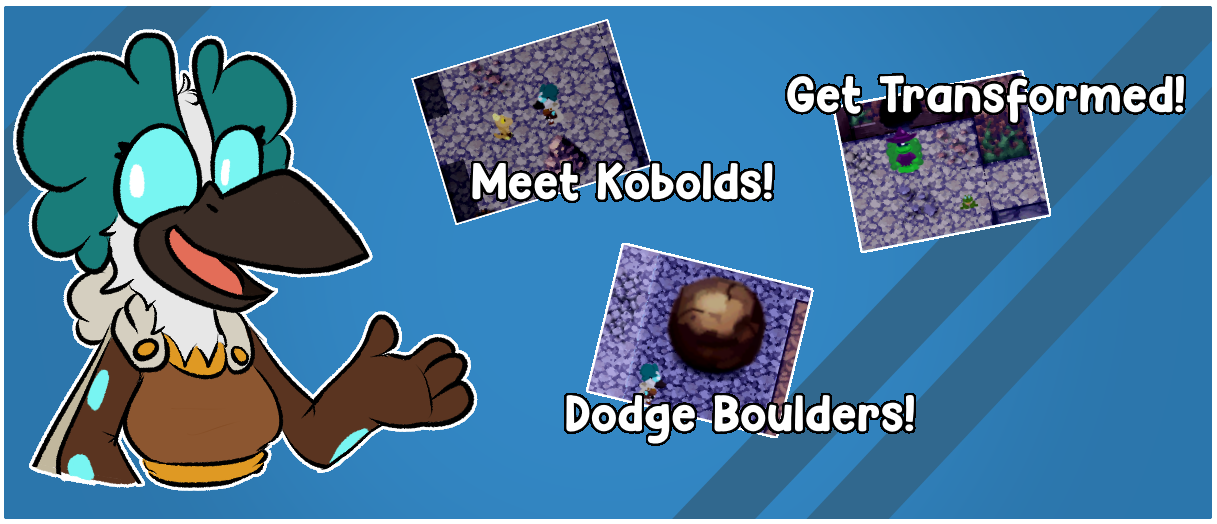 BirdieQuest 2
Created by: Some_dumb_idiot
Birdiequest 2 is finally here! … In demo form! Continue Birdie's quest to not be bored, this time in a actual dungeon! (Dungeon may not be included)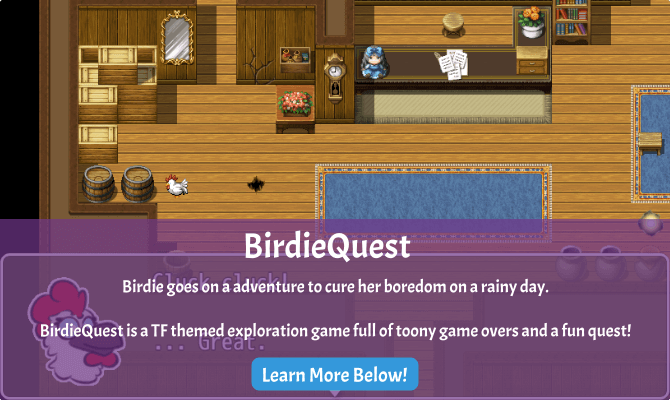 BirdieQuest
Created by: Some_dumb_idiot
Birdie goes on a adventure to cure her boredom on a rainy day. BirdieQuest is a TF themed exploration game full of toony game overs and a fun quest!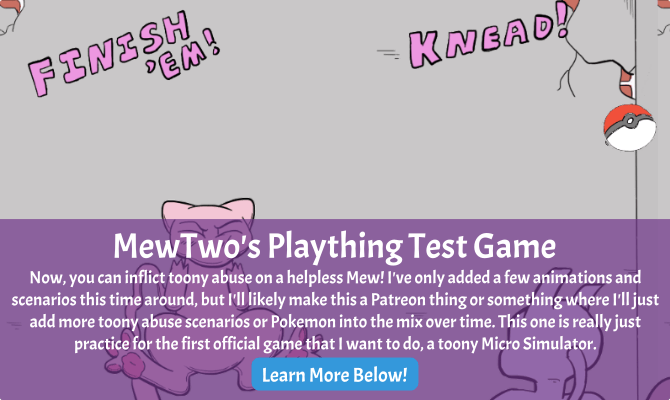 MewTwo's Plaything Test Game
By: EccentricChimera
Now, you can inflict toony abuse on a helpless Mew! I've only added a few animations and scenarios this time around, but I'll likely make this a Patreon thing or something where I'll just add more toony abuse scenarios or Pokemon into the mix over time. This one is really just practice for the first official game that I want to do, a toony Micro Simulator.
Controls
Press the ACTION BUTTONS at the top of the screen to inflict toony abuse on Mew. SQUISH him two times to unlock the next phase of actions, and then SQUISH MORE to leave him helpless.
At the End, the REVERT Button will appear at the middle right side of the screen so you can jump back to the point where Mew was helpless again after choosing a finishing scene.
Press SPACEBAR to Reset everything, and press F1 to go Fullscreen
The Pokeball doesn't do anything yet, but later it'll be used to switch between all the toony Pokemon to potentially abuse. XD
Fats Food [ALPHA]
By: CreatureUnknown
Fast Food this is not! A team of one, you must handle the customers, as well as your appetite! Grow bigger as you eat, and make sure the orders are right, the owner likes them big!
Controls
WASD to move
Move to grab
E/L Ctrl to enter close ups
Shift Runs
Backspace to exit close ups
Esc exits game
Features 2 endings based on amount sold!
Made for the Weight Gaming Fat Fortnight
If you wish to share your game/project feel free to check out this page linked below!